The YC07-CRONUS is a Core part that first appeared in Armored Core: Nexus and later in both Armored Core: Nine Breaker and Armored Core: Last Raven.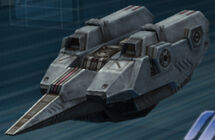 Part Description
Edit
Lightweight core model with weapon storage capability.
Part Statistics
Edit
Part Type: Core
Manufacturer: Mirage
Price: 160,000c
Weight: 801
Energy Drain: 1191
Armor Points: 2372
Def Shell: 445
Def Energy: 462
Maximum Arm Weight: 3305
Cooling: 995
Heat Resistance: 625
Option Slots: 19
VS MG Response: 0
Hanger Unit: Provided
Core Type: Standard
Acquisition
Edit
This part can be unlocked during the mission Destroy Resistance Group. To unlock the part, complete the mission.
In Last Raven, this is in the shop from the very beginning.
The CRONUS is one of the parts unlocked to recreate Stinger's AC, Vixen. However, its chest cannon has been omitted and replaced with a hanger functionality.
In the TGS build, the part originally went by the model number of MCL-MX00R.
Ad blocker interference detected!
Wikia is a free-to-use site that makes money from advertising. We have a modified experience for viewers using ad blockers

Wikia is not accessible if you've made further modifications. Remove the custom ad blocker rule(s) and the page will load as expected.