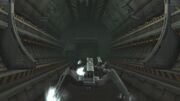 The Termite is a MT unit seen in Armored Core: Nexus and Armored Core: Last Raven.
A terrestrial guard MT unit designed by Mirage, the TERMITE is quite agile and often deployed as part of a facility's first line of defense; in fact, this unit was so successfull, it has also been used on numerous occasions for attacks. In Nexus, it is shown to be able to climb ceilings as well.
Armaments
Edit
These guys appear in large numbers but are very weak: you can't expect much out of them but they're dangerous if you leave them alone.
Ad blocker interference detected!
Wikia is a free-to-use site that makes money from advertising. We have a modified experience for viewers using ad blockers

Wikia is not accessible if you've made further modifications. Remove the custom ad blocker rule(s) and the page will load as expected.