Tiger
General information
Gender
Male
Classification
Raven
Affiliation and military information
Rank
9
Craft
AC Panzern VI
Real world information
Appearances
Armored Core: Project Phantasma
Encountered
Arena
Tiger is a Raven seen in Armored Core: Project Phantasma. He is ranked #9 in the Arena.
Information
Edit
A member of the AC Tech Research Center, he is currently challenging team leader, Rave.
AC Panzern VI
Edit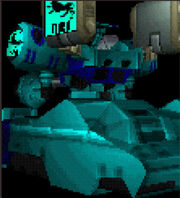 Panzern VI is a tank-legged AC equipped with a bazooka, multi missile launcher double back weapon and the MOONLIGHT laser blade. The unit is enhanced by the Human PLUS enhancements of the pilot and is capable of ignoring weight restrictions.
Ad blocker interference detected!
Wikia is a free-to-use site that makes money from advertising. We have a modified experience for viewers using ad blockers

Wikia is not accessible if you've made further modifications. Remove the custom ad blocker rule(s) and the page will load as expected.