Stunt Rider
General information
Classification
Raven
Gender
Male
Affiliation and military information
Rank
-
Craft
AC Funky Flyer
Real world information
Appearances
Armored Core: Master of Arena
Encountered
Arena
Stunt Rider is a Raven seen in Armored Core: Master of Arena. He is a member of the Sub-Arena.
Information
Edit
A physicist, who says he survives by calculating missile trajectories and avoiding them.
AC Funky Flyer
Edit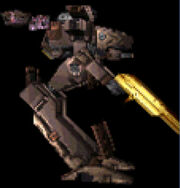 Funky Flyer is a lightweight reverse-joint AC equipped with a back radar, pulse cannon, hand gun and laser blade. In order to use the pulse cannon he needs to kneel.