The Rat is a guard MT seen in Armored Core: Nexus and Armored Core: Last Raven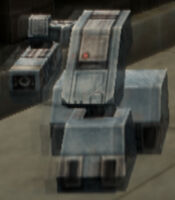 Guard MT unit primarily used as a first line of the defense in various facilities.
Armaments
Edit
Just an annoying enemy, RATs are very easy to kill. If you have one, they can be bladed to keep ammo costs low for the mission.
Ad blocker interference detected!
Wikia is a free-to-use site that makes money from advertising. We have a modified experience for viewers using ad blockers

Wikia is not accessible if you've made further modifications. Remove the custom ad blocker rule(s) and the page will load as expected.