The RURI is an extension part that appeared in Armored Core: Nexus and later in both Armored Core: Nine Breaker and Armored Core: Last Raven.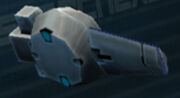 Part Description
Edit
Generates pulses that interfere with missile guidance systems.
Part Statistics
Edit
Part Type: Extensions
Manufacturer: Kisaragi
Type: Missile Counter
Price: 39,000c
Weight: 85
Energy Drain: 142
Performance: 82
Interference RNG: 150
Usage Drain: 2213
Acquisition
Edit
This part can be purchased from the shop for 39,000c.
This extension part appears almost identical to the KWEL-EJ11 extension part from Silent Line: Armored Core.
Ad blocker interference detected!
Wikia is a free-to-use site that makes money from advertising. We have a modified experience for viewers using ad blockers

Wikia is not accessible if you've made further modifications. Remove the custom ad blocker rule(s) and the page will load as expected.