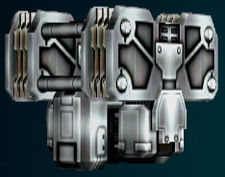 The RPS-MER/SA is a radiator part that first appeared in Armored Core 2 and later in Armored Core 2: Another Age.
Part Description
Edit
Least expensive model.
Part Statistics
Edit
Part Type: Radiator
Price: 18700
Manufacturer: Zio Matrix
Weight: 125
Energy Drain: 124
Cooling: 4988
Forced Cooling: 4988
Acquiring
Edit
This part is the starting radiator part in both games it appears in, meaning you have it from the beginning of the game.
Notable Users
Edit
and at least 4 other Ravens
This is the most inexpensive and lightest radiator and the one with the lowest Energy Drain and lowest Cooling in both games it appears in.
It also has the lowest Forced Cooling in both games it appears in. Although it is tied with the RRX-COT-1000.
Ad blocker interference detected!
Wikia is a free-to-use site that makes money from advertising. We have a modified experience for viewers using ad blockers

Wikia is not accessible if you've made further modifications. Remove the custom ad blocker rule(s) and the page will load as expected.