Pandora
General information
Gender
Male
Classification
Raven
Affiliation and military information
Rank
2
Craft
AC Tragedy
Real world information
Appearances
Armored Core: Master of Arena
Encountered
Arena
Pandora is a Raven seen in Armored Core: Master of Arena. He is ranked #2 in the Arena.
Information
Edit
Named after a goddess from before the Great Destruction. "Pandora" is inscribed on the AC.
AC Tragedy
Edit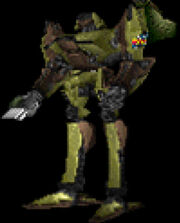 Tragedy is a lightweight two-legged AC equipped with a large rocket launcher, laser cannon, the FINGER machine gun and the MOONLIGHT laser blade. In order to use the laser cannon he needs to kneel.
Ad blocker interference detected!
Wikia is a free-to-use site that makes money from advertising. We have a modified experience for viewers using ad blockers

Wikia is not accessible if you've made further modifications. Remove the custom ad blocker rule(s) and the page will load as expected.