No. 2448
General information
Gender
None
Classification
Artificial Intelligence
Affiliation and military information
Affiliation
None
Occupation
Raven
Craft
AC Crow Predator
Real world information
Appearances
Armored Core Last Raven
No. 2448 is an AI Ranker in the Last Raven VR Arena. Its rank is 21.
AC Crow Predator
Edit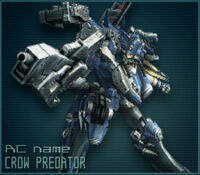 Middleweight, two-leg model with high performance ratings in nearly all areas. Weapon diversity enables unit to engage targets effectively at any range.
This guy is probably the first real difficult fight in the Arena because of him being the first OP-I user, much like Brutus of Project Phantasma only worst. The best way to handle him is like Evangel, largely because this AC is just his older AC only with Micros and extensions. He lacks AMS in this build but his mobility makes up for it. He is mobile and with his linear cannon and EOs he can dish out a lot of damage. The LX can be a good choice as with Evangel if your luck and timing are good but ultimately it may be best to match speed with speed against this guy.
Crow Predator is an exact replica of Evangel's AC Oracle in Armored Core: Nexus.
It is possible that the name "2448" is a play on the "elite" word in "1337speak", "1337". If the number were separated into 4 independent numbers, just subtract 1 from each number, and you'll get "1337"
Ad blocker interference detected!
Wikia is a free-to-use site that makes money from advertising. We have a modified experience for viewers using ad blockers

Wikia is not accessible if you've made further modifications. Remove the custom ad blocker rule(s) and the page will load as expected.