Nina
General information
Gender
Female
Classification
Human
Affiliation and military information
Affiliation
Sapphirus Force
Occupation
Raven
Real world information
Appearances
Armored Core Retribution
Encountered
EX Arena

Nina is a Raven who appears in Armored Core: Retribution.
Information
Edit
She also appears as a bonus character in Armored Core: Last Raven EX Arena.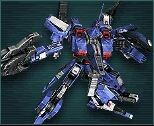 Lightweight, two-leg AC that is ideal for airborne combat. Equipped with a linear rifle, rail gun, and also equips a shield to augment its defense which was reduced to allow greater mobility.
The fastest of the trio, she tends to stay in the air half the time. Designed to stay airborne, highly accurate weapons are required to take her down. Like Isami Jash, choosing a tightly enclosed arena can restrain her from boosting. The shield, like with the other two, will protect her from any small attacks. The linear rifle and the use of her rail gun can cause significant amount of heat within her opponents. Combo attacks will take her down, such as double rifles or the popular laser cannon.
Ad blocker interference detected!
Wikia is a free-to-use site that makes money from advertising. We have a modified experience for viewers using ad blockers

Wikia is not accessible if you've made further modifications. Remove the custom ad blocker rule(s) and the page will load as expected.