Mr. Keepless
General information
Gender
None
Classification
Artificial Intelligence
Affiliation and military information
Affiliation
None
Occupation
Raven
Craft
AC Jetter
Real world information
Appearances
Armored Core Last Raven
Mr. Keepless is an AI Ranker in the Armored Core: Last Raven VR Arena. Its rank is 17.
AC Jetter
Edit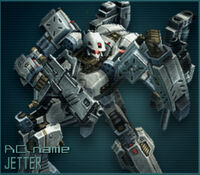 Middleweight, two-leg AC design with respectable firepower and good close-in rushing performance. Overall mobility is somewhat lacking.
Jetter is a replica of the AC Phoenix which appears on the cover of original Armored Core's cover AC that is also seen in Armored Core 1's opening FMV.
Ad blocker interference detected!
Wikia is a free-to-use site that makes money from advertising. We have a modified experience for viewers using ad blockers

Wikia is not accessible if you've made further modifications. Remove the custom ad blocker rule(s) and the page will load as expected.