May Greenfield
Talk

0
2,959pages on
this wiki
May Greenfield is a Lynx who appears in Armored Core: For Answer. She is ranked #18 in Collared.
Information
Edit
A female Lynx affiliated with GA, she pilots a standard biped called Merrygate. She packs quite a bit of firepower with her missiles, which is why her support is valued and respected. Her nickname, "Smiley," comes from her distinctive emblem. She appears as possible consort in Attack on Richland, Defeat Red Rum and Starka, and Destroy Unknown Arms Fort. Otherwise, May does not play a role in the overall plot.
NEXT Merrygate
Edit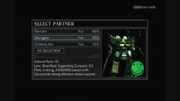 May pilots an all green NEXT composed of various SUNSHINE and NEW SUNSHINE parts and is capable of dealing heavy and sustained damage thanks to its bazooka, rifle, and verticle missile launcher linked to the missile support shoulder units. Merrygate functions best as a support unit but is more than capable in one-on-one encounters.
In the arena equip a light-mid weight NEXT with energy weapons of any kind and flares. Launch flares when she fires her missles then destroy her with EN weapons.
Head: New Sunshine
Core: New Sunshine
Arms: Sunshine
Legs: Sunshine
FCS:
Generator:
Main Booster:
Back Booster:
Side Booster:
Over Booster:
Arm Unit R:
Arm Unit L:
Back Unit R:
Back Unit L:
Shoulder Weapon:
Hangar R:
Hangar L:
Despite being an extremely minor character, May's personality (shown through the few lines she has in the game) and her green smiley face emblem and friendly personality has made her a fan favorite and enjoys moderate popularity as she is the one of the few LYNX who never truly opposes the player outside of arena combat.