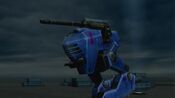 Mirage's standard cannon fodder MT, the Ostrich is only armed with a single rifle, making this relatively weak. Its M variant is found much more often and is a rather mainstay opponent. These guys are fairly weak and it won't take much to break them.
Basically anything works for these guys. They're weak, poorly armed and not too mobile. Enjoy it while it lasts.
Appearances
Edit
This Ostrich variant appears in both Nexus and Last Raven.
Ad blocker interference detected!
Wikia is a free-to-use site that makes money from advertising. We have a modified experience for viewers using ad blockers

Wikia is not accessible if you've made further modifications. Remove the custom ad blocker rule(s) and the page will load as expected.