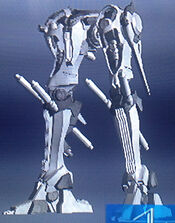 The LINSTANT/L is a Akvavit leg part that first appeared in Armored Core 4 and later Armored Core: For Answer.
Part Description
Edit
Armored Core 4
Edit
Lightweight Biped legs with thin armor and a focus on PA.
Armored Core: For Answer
Edit
Mid-weight biped legs that focus on superior PA and EN defense.
ACFA Part Review:
One of the fastest lightweight legs, they have the highest PA among legs in the game, and also one of the highest drains. It's load isn't very impressive either, making this an odd choice for lightweight legs, unless you're making a PA stacked lightweight... for some reason. Even then Lahire or Judith feature similar stats with less drain.
Part Statistics
Edit
Armored Core 4 - 1.0 Regulations
Edit
Weight: 3970
EN Cost: 6280
AP: 6416
Ballistic Defense: 1833
EN Defense: 3442
PA Rectification: 4931
PA Durability: 203
Load: 10873
Load Capacity: 13400
Mobility: 3019
Braking Ability: 2324
Turning Ability: 1776
Jumping Ability: 1203
Impact Stability: 901
Landing Stability: 1809
Firing Stability: 800
Armored Core: For Answer - 1.4 Regulations
Edit
Part Type: Leg
Weight Class: Lightweight
Manufacturer: Akvavit
Price: 400000c
Weight: 3770
EN Cost: 6281
AP: 7916
AC Defense (Average): 2787
Ballistic Defense: 1833
Energy Defense: 3742
PA Rectification: 5931
PA Durability: 303
Load: 10873
Stability: 1045
Turning Ability: 2426
Notable Users
Edit
Armored Core 4
Edit
Ad blocker interference detected!
Wikia is a free-to-use site that makes money from advertising. We have a modified experience for viewers using ad blockers

Wikia is not accessible if you've made further modifications. Remove the custom ad blocker rule(s) and the page will load as expected.