The KWB-SBR01 is an Right Arm Part that first appeared in Armored Core 3 and later Silent Line: Armored Core.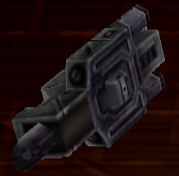 Part Description
Edit
Increased attack power parrying blade.
Part Statistics
Edit
Part Type: Right Arm Unit - Blade
Manufacturer: Kisaragi
Price: 38,600c
Weight: 238
Energy Drain: 13
Attack Power: 2270
Attack Heat: 950
Discharge Heat: 134
Range Rating: 6
Usage Limit: 20
Usage Drain: -
Acquisition
Edit
This part can be purchased from the shop for 38,600c.
Armored Core 3
Silent Line: Armored Core