Hostile
General information
Japanese Name
ホスタイル
Romaji Name
Hosutairu
Classification
Human
Gender
Male
Affiliation and military information
Affiliation
Global Cortex
Occupation
Raven
Rank
C-8
Craft
AC Atomic Pod
Real world information
Appearances
Armored Core 3
Encountered
Arena
Hostile is a Raven appearing in Armored Core 3 and is ranked C-8 in the Arena.
AC Atomic Pod
Edit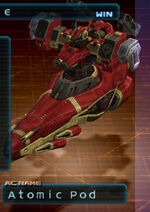 Atomic Pod is a middleweight hover-legged AC equipped with an overboost core, relation missile extensions, two identical middle rocket launchers and variable launch missile weapon arms. However the combination of poorly armored hover legs and weapon arms means that this AC cannot survive any form of continual offense. A persistent attacker will not need to fear its extensions.
In-Game Information
Edit
Short-tempered and headstrong, Hostile rushes into battle with weapons blazing in the hopes of claiming quick, decisive victories. This lack of restraint carries over to all aspects of his life and he is usually trying to escape one predicament after another.
Etymology
Edit
The name Hostile refers to one who is angry and aggressive.