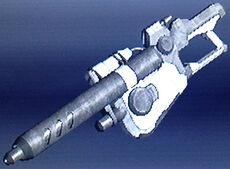 The HLR71-VEGA is a Melies weapon part that first appeared in Armored Core 4 and later Armored Core: For Answer.
Part Description
Edit
A prototype high laser rifle with powerful single shots.
High power per shot and anti-PA capability (highest PA reduction and PA Penetration stats for an energy weapon) puts it above other laser weapons, even the back mounted HLC02-SIRIUS. Unfortunately, it is outclassed in almost every other category (Melee Ability, initial speed) and also only has 6 shots. A high risk, high reward weapon. Can be obtained in AC:FA by beating Defend Arteria Carpals.
Part Statistics
Edit
Armored Core 4 - 1.0 Regulations
Edit
Weight: 1886
EN Cost: 812
Attack Power: 9627
PA Reduction: 445
PA Piercing: 9180
Impact: -
Melee Ability: 133
Recoil: -
Aim Precision: 96
Initial Speed: 1182
Firing Range: 553
Reload Time: 205
No. Of Rounds: 6
Simul. Fire Ct.: 1
Cost Per Round: 2000
Shot EN Cost: 5691
Armored Core: For Answer - 1.4 Regulations
Edit
Part Type: Hi Laser Rifle
Manufacturer: Interior
Price: 300000c
Weight: 1886
EN Cost: 812
Attack Power (Ballist.): 16843
PA Attenuation: 445
PA Penetration: 9180
Impact Force: -
Ballistics Velocity: 990
Firing Range: 653
Shot Precision: 96
Shot EN Cost: 5991
Melee Ability: 88
Fire Rate: 205
Projectile Count: 1
Magazine Capacity: 6
Cost Per Round: 700
Use with other weapons that have high stun like the SAKUNAMI or the GAN01-SS-WBP to ensure a hit. Works best on a heavy-weight frame or even a lightweight emphasizing blitzkrieg combat (like Julius Emery). Not recommended for player vs. player matches.
Notable Users
Edit
Armored Core 4
Edit
Ad blocker interference detected!
Wikia is a free-to-use site that makes money from advertising. We have a modified experience for viewers using ad blockers

Wikia is not accessible if you've made further modifications. Remove the custom ad blocker rule(s) and the page will load as expected.