The H05-HORNET is a Head part that first appeared in Armored Core: Nexus and later in both Armored Core: Nine Breaker and Armored Core: Last Raven.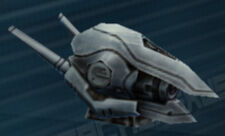 Part Description
Edit
Redesigned third generation model. Offers solid performance.
Part Statistics
Edit
Part Type: Head
Manufacturer: Mirage
Price: 67,000c
Weight: 387
Energy Drain: 420
Armor Points: 900
Def Shell: 179
Def Energy: 183
Cooling: 395
Stability: 358
Computer Type: Detailed
Auto-Map: Provided
Night Vision: Provided
Bio Sensor: None
Vs. ECM: 406
Radar Function: Provided
Radar Range: 400
Scanning Interval: 24
Missile Sensor: None
Bio-Sensor: None
Acquisition
Edit
This part can be purchased from the shop for 67,000c.
Ad blocker interference detected!
Wikia is a free-to-use site that makes money from advertising. We have a modified experience for viewers using ad blockers

Wikia is not accessible if you've made further modifications. Remove the custom ad blocker rule(s) and the page will load as expected.