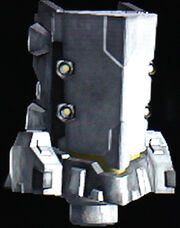 The GAN02-NSS-H is a GA America head part that appeared in Armored Core: For Answer.
Part Description
Edit
A re-balanced Sunshine part. GA's new standard high level part.
ACFA part review:
Essentially a heavy weight head, it features a higher stability than most in it's class while featuring excellent defensive stats. It has bad camera and poor energy drain however.
Part Statistics
Edit
Armored Core: For Answer - 1.4 Regulations
Edit
Part Type: Head
Weight Class: Middleweight
Manufacturer: GA America
Price: 200000c
Weight: 483
EN Cost: 1033
AP: 2998
AC Defense (Average): 590
Ballistic Defense: 781
EN Defense: 399
PA Rectification: 612
PA Durability: 35
Stability: 594
Camera Functionality: 471
System Recovery 473
Ad blocker interference detected!
Wikia is a free-to-use site that makes money from advertising. We have a modified experience for viewers using ad blockers

Wikia is not accessible if you've made further modifications. Remove the custom ad blocker rule(s) and the page will load as expected.