Fire Crest
General information
Gender
Male
Classification
Raven
Affiliation and military information
Rank
23
Craft
AC Glorious
Real world information
Appearances
Armored Core: Project Phantasma
Encountered
Arena
Fire Crest is a Raven seen in Armored Core: Project Phantasma. He is ranked #23 in the Arena.
Information
Edit
Not great at short-range combat, he prefers to use rockets and missiles.
AC Glorious
Edit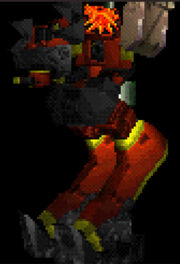 Glorious is a middleweight reverse-joint AC equipped with a slug gun, rocket launcher, and dual missile weapon arms. In order to use the slug gun he needs to kneel.
Ad blocker interference detected!
Wikia is a free-to-use site that makes money from advertising. We have a modified experience for viewers using ad blockers

Wikia is not accessible if you've made further modifications. Remove the custom ad blocker rule(s) and the page will load as expected.