The E05MG-ROE2 is an extension part that appeared in Armored Core: Nexus and later in both Armored Core: Nine Breaker and Armored Core: Last Raven.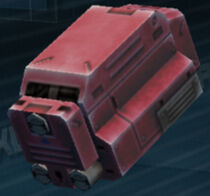 Part Description
Edit
Ammo magazine for right arm laser rifles (12 rounds x 2 reload).
Part Statistics
Edit
Part Type: Extensions
Manufacturer: Mirage
Type: Energy Magazine
Price: 21,400c
Weight: 245
Energy Drain: 474
Reload Amount: 12
Reload Uses: 2
Reload Interval: 180
Acquisition
Edit
This part can be found in the Support OAE Invasion mission. From your starting position move to the building on the left, and look for the building farthest away from you. Inside is the part.
Ad blocker interference detected!
Wikia is a free-to-use site that makes money from advertising. We have a modified experience for viewers using ad blockers

Wikia is not accessible if you've made further modifications. Remove the custom ad blocker rule(s) and the page will load as expected.