Double Heart is a Raven featured in the novel Armored Core: Brave New World. She also appears as a bonus character in the Silent Line Portable Arena and is ranked E-22.
Information
Edit
Orphaned at an early age, this pilot was raised and trained by a a veteran Raven who mentored her in the skills of AC control. Teamed with her mentor's daughter, a skilled operator in her own right, the pair battle under the name of "Double Heart."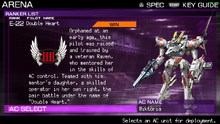 AC Victoria
Edit
In Silent Line: Armored Core Portable, Victoria is a lightweight unit equipped with a laser rifle and grenade rifle. In Brave New World, Victoria's design changes multiple times, but remains consistently as a lightweight unit. Her AC's name however is mistranslated/misspelled as Wiktoria.
Victoria
Classification: Armored Core

AC Performance:

ATK PWR: D
DEF PWR: C
MOBILITY: D

EN SUP: A
COOLING: A
SUPPORT: C


Overall: B

Parts:

Optional parts:

Stats:

AP:
Arm Weight: /
Leg Weight: /
Weight:
EN Consumption: /
EN Capacity:
EN Supply:
Total Firepower:
Defensive Points:

Stability:
Moving Ability:
Turning Speed:
Rising Ability:
Cooling:
Radar Ability:
Sensor Ability:
FCS Performance:

Paint:

Head:


Pattern:

Core:


Pattern:

Right Arm:


Pattern:

Left Arm:


Pattern:

Legs:


Pattern:

Weapons:


Back Unit R:

Back Unit L:

Arm Unit R:

Arm Unit L:
She's not too dangerous, although you have to be wary of her grenade rifle shots as they can easily overheat your AC. She likes using her laser rifle and grenade rifle in conjunction at close range, so it's still better to play safe and maintain a distance while fighting her. Her AC doesn't have OP-I and therefore she is a tad easier to fight compared to Selfish. Her AC also lacks anti-missile defenses of any kind so missiles are also effective to use against her. Since she is using a lightweight bipedal, it is very easy to stun-lock her with heavy weapons so it shouldn't take too long to defeat her.
In the Silent Line Portable Arena, Double Heart's AC is misspelled as Wiktoria.
Ad blocker interference detected!
Wikia is a free-to-use site that makes money from advertising. We have a modified experience for viewers using ad blockers

Wikia is not accessible if you've made further modifications. Remove the custom ad blocker rule(s) and the page will load as expected.