Darwin
General information
Classification
Raven
Gender
Male
Affiliation and military information
Rank
27
Craft
AC Evolution
Real world information
Appearances
Armored Core: Project Phantasma
Encountered
Arena
Darwin is a Raven seen in Armored Core: Project Phantasma. He is ranked #27 in the Arena.
Information
Edit
Although his AC is of average quality, his long range cannons assure there won't be a close range battle.
AC Evolution
Edit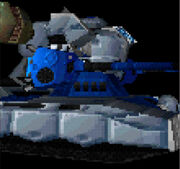 Evolution is a tank-leg AC design equipped with cannon weapon arms, triple missile launcher and a grenade launcher.