The CR-YA99DC is an arm part that exclusively appeared in Armored Core: Last Raven Portable.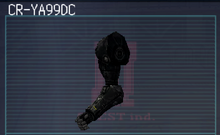 Part Description & Statistics
Edit
Unit with sphere-type armor for improved energy defense.
Part Type: Arm
Manufacturer: Crest
AP: 1768
Weight: 1286
Energy Drain: 1296
Def Shell/Energy: 308/529
Cooling: 796
Blade Aptitude: 89
Aim Accuracy: 269
Aim Adjust Time: 8
Acquisition
Edit
This part is obtained by defeating Prilissa in the VR Arena.
This part is a replica of the AN-D-7001 from the original Armored Core.
Ad blocker interference detected!
Wikia is a free-to-use site that makes money from advertising. We have a modified experience for viewers using ad blockers

Wikia is not accessible if you've made further modifications. Remove the custom ad blocker rule(s) and the page will load as expected.