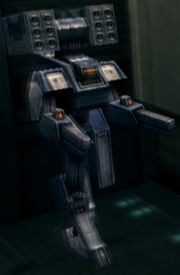 A common sight throughout Last Raven, the CR-MT77M is a militarized version of the CR-MT77 and is equipped with twin laser rifles and a missile launcher on top. They were a competitor to Mirage's OSTRICH line but are notably less popular.
Basically if you can dodge the missiles and keep its laser rifle shots hit to a minimum, you'll be fine. They're not too armored and will fall easily. They do move around some but they're typically never the best dodgers. Dispose of and move on.
Appearances
Edit
The CR-MT77M appears in multiple missions throughout Armored Core Last Raven and Armored Core Nexus.
Ad blocker interference detected!
Wikia is a free-to-use site that makes money from advertising. We have a modified experience for viewers using ad blockers

Wikia is not accessible if you've made further modifications. Remove the custom ad blocker rule(s) and the page will load as expected.