The CR-LH80S2 is a leg part that appeared in Armored Core: Nexus and later in both Armored Core: Nine Breaker and Armored Core: Last Raven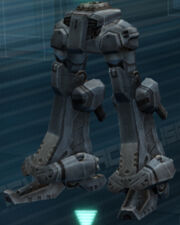 Part Description
Edit
Lightweight conversion of the LH73SSA design.
Part Statistics
Edit
Part Type: Legs
Manufacturer: Crest
Price: 62,500c
Weight: 2249
Moving Drain: 1821
Stationary Drain: 800
Max Leg Weight: 5626
Armor Points: 3390
Def Shell: 592
Def Energy: 461
Cooling: 1248
Moving Ability: 235
Turning Ability: 119
Braking Ability: 120
Landing Stability: 1553
Defense Stability: 1331
Jump Performance: 117
Boost Power: -
Charge Drain: -
Booster Heat: -
Acquisition
Edit
This part can be purchased from the shop for 62,500c.
This leg part appears almost identical to the CLM-02-SNSK leg part from Armored Core 3 and Silent Line: Armored Core.
Ad blocker interference detected!
Wikia is a free-to-use site that makes money from advertising. We have a modified experience for viewers using ad blockers

Wikia is not accessible if you've made further modifications. Remove the custom ad blocker rule(s) and the page will load as expected.