The CR-H95EE is a Head part that first appeared in Armored Core: Nexus and later in both Armored Core: Nine Breaker and Armored Core: Last Raven.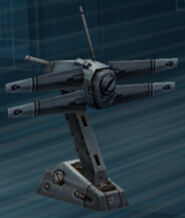 Part Description
Edit
Armor sacrificed in favor of high quality electronic functions.
Part Statistics
Edit
Part Type: Head
Manufacturer: Crest
Price: 95,800c
Weight: 179
Energy Drain: 707
Armor Points: 699
Def Shell: 103
Def Energy: 208
Cooling: 258
Stability: 444
Computer Type: Special
Auto-Map: Provided
Night Vision: Provided
Bio Sensor: Provided
Vs. ECM: 491
Radar Function: Provided
Radar Range: 550
Scanning Interval: 8
Missile Sensor: Provided
Bio-Sensor: Provided
Acquisition
Edit
This part can be found in the Destroy Mine Power Systems mission. The part is hidden in a stack of boxes.
In Last Raven, this part is obtained by defeating Crow in either of these missions: Shutdown Defense Systems or Destroy AC Sight Hawk.
Ad blocker interference detected!
Wikia is a free-to-use site that makes money from advertising. We have a modified experience for viewers using ad blockers

Wikia is not accessible if you've made further modifications. Remove the custom ad blocker rule(s) and the page will load as expected.