The CR-H69S is a Head part that first appeared in Armored Core: Nexus and later in both Armored Core: Nine Breaker and Armored Core: Last Raven.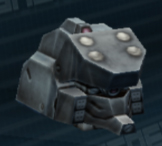 Part Description
Edit
First generation head part. Low performance, but lightweight.
Part Statistics
Edit
Part Type: Head
Manufacturer: Crest Ind.
Price: -
Weight: 145
Energy Drain: 218
Armor Points: 809
Def Shell: 151
Def Energy: 128
Cooling: 274
Stability: 346
Computer Type: Standard
Auto-Map: None
Night Vision: None
Bio Sensor: Provided
Vs. ECM: 203
Radar Function: None
Acquisition
Edit
This part is the starting head part in the games it appears in, meaning you have it from the beginning of the game.
Ad blocker interference detected!
Wikia is a free-to-use site that makes money from advertising. We have a modified experience for viewers using ad blockers

Wikia is not accessible if you've made further modifications. Remove the custom ad blocker rule(s) and the page will load as expected.