The CR-G69 is a generator part that appeared in Armored Core: Nexus and later in both Armored Core: Nine Breaker and Armored Core: Last Raven.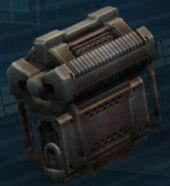 Part Description
Edit
Early model with low output, but a low calorific value.
Part Statistics
Edit
Part Type: Generator
Manufacturer: Crest
Price: -
Weight: 381
EN Output: 7950
Condenser Cap: 22000
Emergency Cap: 2800
Calorific Value: 2055
Acquisition
Edit
This part is the starting generator part in the games it appears in, meaning you have it from the beginning of the game.
This generator part appears almost identical to the CGP-ROV6 generator part from Armored Core 3 and Silent Line: Armored Core.
Ad blocker interference detected!
Wikia is a free-to-use site that makes money from advertising. We have a modified experience for viewers using ad blockers

Wikia is not accessible if you've made further modifications. Remove the custom ad blocker rule(s) and the page will load as expected.