The CR-C89E is a Core part that first appeared in Armored Core: Nexus and later in both Armored Core: Nine Breaker and Armored Core: Last Raven.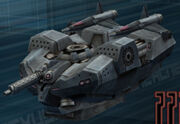 Part Description
Edit
Core model equipped with a solid round EO function.
Part Statistics
Edit
Part Type: Core
Manufacturer: Crest
Price: 139,300c
Weight: 1283
Energy Drain: 1031
Armor Points: 2877
Def Shell: 536
Def Energy: 419
Maximum Arm Weight: 3284
Cooling: 1201
Heat Resistance: 590
Option Slots: 17
VS MG Response: 32
Hanger Unit: Unit
Core Type: EO
EO Ammo Type: Solid
EO Attack Power/Ammo: 225/70
EO Attack Heat: 2730
EO Range: 320
EO Firing Interval: 75
EO Ammo Price: 22
Acquisition
Edit
This part can be purchased from the shop for 139,300c.
Ad blocker interference detected!
Wikia is a free-to-use site that makes money from advertising. We have a modified experience for viewers using ad blockers

Wikia is not accessible if you've made further modifications. Remove the custom ad blocker rule(s) and the page will load as expected.