The B04-BIRDIE2 is a booster part that appeared in Armored Core: Nexus and later in both Armored Core: Nine Breaker and Armored Core: Last Raven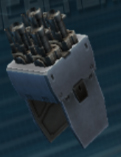 Part Description
Edit
BIRDIE model redesigned to offer improved boost power.
Part Statistics
Edit
Part Type: Boosters
Manufacturer: Mirage
Price: 86,000c
Weight: 188
Energy Drain: 138
Boost Power: 18377
Charge Drain: 4592
Booster Acceleration: 4491
Booster Heat: 3891
Acquisition
Edit
This part can be purchased from the shop for 86,000c. In Last Raven, the part is hidden in Eliminate the Enemy AC.
Ad blocker interference detected!
Wikia is a free-to-use site that makes money from advertising. We have a modified experience for viewers using ad blockers

Wikia is not accessible if you've made further modifications. Remove the custom ad blocker rule(s) and the page will load as expected.