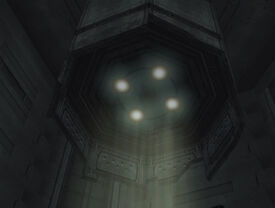 Attack Unexplored Region
is the final mission of
Silent Line: Armored Core
.
Information
Edit
Requester: Global Cortex
Advance: 150000c
Upon success: 0
Operation Area: Remains of Another Layered
Enemy Forces: Unknown
Objective: Destroy signal source
Operation Code: Vital Signs
Client Name: Global Cortex
Place Name: Remains of Another Layered
Start Time: 01:00
Security Level: 10
Estimated Success Rate: 01%
Recommended Raven Rank: -
We've completed our analysis of information acquired by the research team during their exploration of the old fortress. A passage leading to a new subterranean Layered was uncovered.
A representative from the Artificial Intelligence Office is thought to be on-site and we've confirmed that the signals responsible for recent equipment disruptions originate there as well.
What is going on at this location? Might the AI scientist somehow be involved in recent events?
The only way we can hope to answer these questions is to go see for ourselves.
We're sending you into the facility to act as our eyes and ears in this matter. Locate the source of the signal and destroy whatever it is that's producing it. Good luck.
Emma:Raven... your signal...
Emma:Raven... the connection is breaking up...
Sera:Checking serial number...XA-26483.
Sera:Registration...confirmed.
Sera:Security disabled...
IBIS:Establishing connection...
IBIS:Switching modes... Engaging final directive...
IBIS:System phase 22-4...Engaged...
IBIS:Target scan in progress... Adapting systems...
IBIS:Confirmation check...
IBIS:Disconnecting... Reverting to safe mode... Main system shutdown...
IBIS:XA-26483... My function is complete...Raven...
IBIS:The rest is up to you...
Emma:Raven can you hear me...?
Emma:Raven...please copy, over...
Walkthrough
Edit
Ad blocker interference detected!
Wikia is a free-to-use site that makes money from advertising. We have a modified experience for viewers using ad blockers

Wikia is not accessible if you've made further modifications. Remove the custom ad blocker rule(s) and the page will load as expected.