Artillery
General information
Gender
Male
Classification
Raven
Affiliation and military information
Rank
37
Craft
AC Mine Layer
Real world information
Appearances
Armored Core: Project Phantasma
Encountered
Arena
Artillery is a Raven in Armored Core: Project Phantasma. He is ranked #37 in the Arena.
Information
Edit
Known only as the "Mine Layer," he annoys others by dropping mines around the arena.
AC Mine Layer
Edit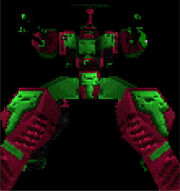 Lightweight four-legged AC equipped with machine gun weapon arms.
Head: HD-06-RADAR
Core: XCL-01
Arms: AW-MG25/2
Legs: LFH-X3
Generator: Unknown
FCS: Unknown
Boosters: Unknown
Back Weapon L: None
Back Weapon R: None
Arm Weapon L: None
Arm Weapon R: None
Ad blocker interference detected!
Wikia is a free-to-use site that makes money from advertising. We have a modified experience for viewers using ad blockers

Wikia is not accessible if you've made further modifications. Remove the custom ad blocker rule(s) and the page will load as expected.