Armored Cores are the titular highly-advanced, mechanized fighting vehicle (mech) utilized in the Armored Core game series. Armored Cores are almost always the deciding factor in battles they present themselves in, and possess extraordinary firepower for their size and weight. The exact size for an Armored Core (typically abbreviated "AC") is highly variable, but the given average height for a Fourth Generation AC is about 10 meters (approximately 32.8 feet) tall, and the current Fifth Generation is slated to be at an average of 5 meters (approximately 16.4 feet) tall.
Armored Cores can be classified into generations, running parallel to consecutive games, to gauge how their capabilities improved or increased in variety as the series progressed. The first generations of Armored Core were unsophisticated, largely designed for straight, face-to-face combat, whereas newer model Armored Cores are extremely fast and deadly, capable of leveling armies in a single, devastating volley of fire. This can be demonstrated by the stark contrast in generational gap shown by Armored Core 4: a Fourth Generation AC is capable of dispatching most of its First Generation enemies in one shot, and can often destroy whole squads of opposing "Normals" in seconds. The Current Fifth is half the size of previous armored cores but maintains a majority of their abilities in one form or another.
As related by the histories of every Armored Core game up to Last Raven, the Armored Core began as Muscle Tracers (MTs). MTs are relatively small vehicles, normally walkers in nature, originally designed in the civilian sector for construction work and other remedial heavy lifting tasks. Of course, this only lasted so long, as both private military contractors and national militaries weaponized MT technology. MT combat units began as reverse joint walking tanks, usually equipped with single, medium-caliber cannons and rockets, or small, spider-like, quadrupedal light units equipped with rockets or machine guns. Over time, the amount and types of MTs grew significantly; MTs weren't significantly more expensive than their conventional warfare counterparts, but did not completely replace them. Often, MTs were deployed alongside tanks, fighter aircraft, helicopter gunships, other conventional fighting vehicles, and of course, infantry.
The natural evolution of the MT was the bipedal model; high-end MTs were soon being produced with experimental laser blade technology, as well as other laser-based rifle weaponry, conventional missile launchers, and other, varying standard armaments. The next step after this was the Cored MT which was followed closely by the Armored Core: a modular, customizable unit that could be tailored to the pilot. This was likely a development directly preceding, or occurring after, the Great Destruction during the Armored Core-Armored Core: Another Age timeline; it is unknown where this development came in the other two known timelines. As the Armored Core was developed, the new, mercenary pilots called Ravens became the dominant force on the battlefield; a single Raven piloting a medium- or high-quality Armored Core could level an enemy force with relative ease. Armored Cores possessed extremely high-quality armor and energy shields, when compared to even their high-end MT peers.
An Armored Core was made up of the following parts:
The First Generation - Armored Core 1 to Master of ArenaEdit
Examples of First Generation Armored Cores: Black Dragon, Nine-Ball, Vixen .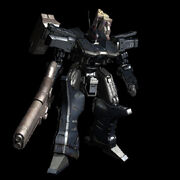 A First Generation Armored Core could carry radically varying weapons; one AC might have had back-mounted artillery guns and cruise missile launchers, while another could carry a laser rifle and laser sword. Often times, the hand-held version of a weapon will have a back-mounted counterpart, and solid-round weapons had an energy-firing version as well. The First Generation of Armored Cores set the standard for all future Armored Cores to surpass; in terms of mobility, every future generation of Armored Core except the Late Third Generation has been vastly superior, but in terms of weapons, the First Generation of Armored Cores is only outclassed by the Fourth Generation and forward.
The First Generation is also known to have the most offshoots and branches of Armored Cores. There are three main types beyond the first original regular Armored Cores:
Scaled down versions of the AC, GPACs were hybrid MT/ACs which were created for mass production. They were very fast and capable of boosting, and had basic weapons such as the bazooka and laser blade. While not as powerful as a regular Armored Core, their swift speed and high performance made them dangerous in large numbers.
Mass Productions Armored Core (MPAC)
While the GPAC was a scaled down version of the Armored Core meant for mass production, the MPAC was a regular Armored Core that was "scaled up" so to speak to be above the capabilities of a regular unit. The only real difference is that the MPAC was internally modified in some way to enhance its abilities. Despite this the unit does not have Human PLUS and also like the GPAC, is much less durable. Examples include the Swift and Spiteful.
Whereas an ordinary AC would be composed of multiple mass produced parts, the Custom was produced specifically as a single set of parts custom designed by a corporation and was never reproduced. Custom ACs often were much more powerful than ordinary Armored Cores, but are also considerably rarer. The two most prominent examples are the AC Vixen and Nine-Ball Seraph.
Other Appearances
Edit
The First Generation was also unique in that it was the only generation to appear outside of the original games it appeared in. Specifically, the First Generation appeared again in Armored Core 4 and Armored Core: For Answer as a standard enemy, called Normals, to underline the extreme superiority of the Fourth Generation Armored Core.
Weaknesses
Edit
The drawbacks of the First Generation Armored Core were readily apparent as one was used; the primary method of thrust, the boosters, did not provide any method of bursting in speed, and made rapid dodging maneuvers ineffective. Also, although First Generation Armored Core-grade weaponry was effective against other Armored Cores of the same generation, and lesser enemies, it simply did not have the stopping power to fight higher-generation Armored Cores, as demonstrated by the Fourth Generation Armored Core's ability to eradicate whole squads of First Generation Armored Cores while taking minimal damage itself.
Another key disadvantage that would carry on until the Fourth Generation is the lack of a speed control; that is to say, the ability to stay at a certain speed. Generally speaking, an AC had only two speeds: absolute standstill or absolute maximum; there was no way to allow the pilot adjust in any form and was only capable of reaching its maximum speed. The only known work around to this was "bunny hopping," activating the booster for a moment to jump and continue going.
Although it had perhaps some of the most powerful weapons, another issue the First Generation suffered from was the inability to use more than one weapon at time. This would later be rectified in the Third Generation and all following ones.
The Second Generation - Armored Core 2 to Another AgeEdit
Examples of Second Generation Armored Cores: Providence, Wonder Raid, Judas
The Second Generation Armored Core was a significant milestone in Armored Core technological advancement; although weaponry made relatively little progress in terms of power, the variety of weapons available increased dramatically. Also, the Second Generation Armored Core made several advances in mobility and weapons-placement that made it the template for every other generation of Armored Core after it.
The following improvements were made from the First Generation to the Second Generation:
Overall, the Second Generation was one of the most critical of all the generations, in terms of the precedents it set. The overboost and extension weapons became staple functions of the Armored Core, and exist today in the Fourth Generation. The inside weaponry and energy shields lasted for several more generations, and were the inspiration for other types of weapons later on. And the radiator, though relatively minor in the Second Generation, would become exceptionally important later on. The Second Generation was largely the foundation upon which all other Armored Cores are built on, more so than the First Generation, making it one of the most important generations of all-time, and a symbol of the Armored Core franchise.
Weaknesses
Edit
The drawbacks of the Second Generation were not as overt as the First Generation, with the mobility problem alleviated somewhat by overboosting and the combat dynamics improved with the addition of extension and inside weapons. However, this led to increased weight that had to be supported by the legs, and, with the addition of the radiator, meant there was less overall room for weapons. The radiator became, essentially, dead weight, until later, when was used to completely change the balance of the games and alter the mobility available to the Armored Core. Despite this, the Second Generation as a whole presents a stable, consummate example of Armored Core technology.
The Early-Third Generation - Armored Core 3 to Silent Line Edit
The Third Generation is split into two groups:the AC3-ACSL group (Early Third), and the ACNX-ACLR group (Late Third) with key differences from each.
Examples of Early Third Generation Armored Cores: Infinity, Mystery, Arcadia, Painkiller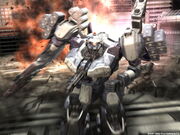 The Early Third Generation Armored Core was a huge leap in terms offensive ability, though mobility was not improved greatly in the transition from Second to Third Generation.
The following items were added to the Third Generation Armored Core:
Exceed Orbit - A new type of core (as opposed to overboost cores) which possessed one to two small, hovering drones, each of which fired some form of projectile at any enemy within range. The type of shot (energy or solid) depended on the core, and the power corresponded to the core weight-classification (light had machine gun/energy machine gun EO, medium had rifle/laser rifle EO, and heavy had hi-laser/linear gun EO). Solid round EO became useless after the ammunition was depleted, the core simply becoming the same as a core from the First Generation, while energy EO regenerated its ammunition over time, a significant advantage in its favor.
Inside Weapons - Inside weapons were moved to the inner shoulder, instead of the core. New types of weapons included napalm rockets, which set enemies on fire, ECM rockets, which jammed enemy electronics, and anti-generator rockets, which adversely affected enemy generator's upon impact.
Left-Arm Weapons - One of the biggest improvements made to the Third Generation Armored Core was the ability to dual-wield weapons. A variety of weapons existed for the left arm, usually weaker (relatively) versions of weapons available to the right arm. This is not to say that shields and laser blades weren't still available, however, and the choice was purely academic and could vary from player to player.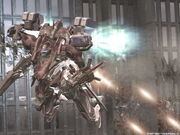 The Early Third Generation was very important, because it was the first generation to include left-arm projectile weapons. However, other than an increase in weapon types and the addition of the left-arm gun, the Third Generation was not the cosmic leap the Second Generation was. In addition, the howitzer, an important (at least in the case of the left-arm versions) weapon would only last for this portion of the generation, being removed in Armored Core: Nexus for unexplained reasons.
Weaknesses
Edit
There were few drawbacks of the Third Generation; weapon types were plentiful, there were two types of cores to choose from, and the combinations of parts that could be made were shockingly numerous. A minor weakness can be noted in the left arm weapon; although it now provided an extra weapon beside the blade, it was difficult to use. This is mostly attributed to the fact that the left arm was always in the default standby position, thus in order to use it, it required a moment to lift the arm up to ready it in firing position before firing. This meant that there was a delay from the time the weapon was triggered and when it was fired. The left-arm weapon also had no targeting of its own, meaning that if the right-arm weapon was exhausted of ammo before the left-arm weapon and discarded, the left-arm weapon would simply have to be fired blindly.
However, despite these problems, the Early Third is still considered the Golden Age of the Armored Core technology. This would be short-lived, though, as the Late Third Generation rebalanced the game and reduced the overall effectiveness of the AC as the player could utilize it.
The Late-Third Generation - Armored Core: Nexus to Last RavenEdit
Examples of Late Third Generation Armored Cores: Foxeye, Oracle, Fascinator, Dual Face
The Late Third Generation of Armored Cores stood in stark contrast compared to all other generations; where every other generation improved largely on the previous generation, the Late Third Generation took several leaps backwards in terms of ability for the Armored Core. However, this weakening was actually only applied largely to the player-controlled Armored Core, making the games much harder during this generation. This was because of the OP-INTENSIFY-or more accurately, the lack thereof. Some enemy Ravens still enjoyed this advantage, but the player no longer had access to this part.
The other significant changes that occurred dealt with the AC radiator and heat management system. Firstly, it was decided that when an AC overheated, it would need to use large amounts of energy to power the radiator to cool down. Secondly, it was decided to raise the heat caused by all weapons dramatically (energy weapons specifically received increased heat output, as well as some high fire-rate weapons, like machine guns), making the energy drain relevant. Lastly, boosters were altered so that they use generated heat. Thus, it became incredibly difficult to create a long-term flight-capable AC, as it would constantly run out of energy and be grounded. The higher-level AIs were largely immune to this, as their innate OP-INTENSIFY powers gave them astonishingly increased radiator ability.
One notable thing about the Late Third Generation is that it saw the addition of many "legacy" parts. That is to say, many popular and well-known parts from the previous generations were re-added in this generation, with appropriate balancing changes to fit with the other parts. Included parts are the FINGER multi-barrel machine gun, Stinger of Armored Core: Project Phantasma's double bladed laser blade, and the frame parts to build the cover ACs of Armored Core 2 and Armored Core 2: Another Age, among several others.
Despite the player being generally handicapped during this generation, it was still the highest evolution of the "Normal" AC, having access to the widest variety of weapons and equipment.
The Late Third Generation provided the following changes:
Hanger Cores - Likely the most important change to the Late Third Generation Armored Core, hanger cores added the ability to bring additional arm weapons into battle. Included in the weapons available are small, handheld pistols, machine guns, pulse rifles, plasma cannons, and other basic armaments. The hanger core could overlap with an overboost core, giving both abilities at once, but never with an exceed orbit core.
Radiators - The radiator, as noted above, was made significantly more important to the player in the Late Third Generation. A good radiator was absolutely necessary to an AC's general movement, for without one the player would constantly be grounded due to lack of energy. This meant that there was much less room for weaponry on the player's AC, due to that weight being taken up by the improved radiator.
Tuning - The Late Third Generation saw the addition of tuning. Almost every category of part, besides FCS and weapons, was given 10 points to spend on tuning and several categories to improve. One could choose to dedicate some points to each category, or all of them to one. In this way, a player could slightly improve his base parts without actually switching them out.
Weapon Magazines - Late Third Generation weaponry received the interesting and less drastic change of magazines. Previous Armored Core games had weapons which kept firing until they completely emptied of ammo, a form of "bottomless magazine." From this point forward, Armored Cores reload some kinds of solid round weapons magazine-by-magazine; a machine gun, instead of firing 700 rounds straight, might now fire 70 before reloading. Many types of weapons were affected by this change, though usually they were high ammo weapons, and always solid round.
The Late Third would see the Normal out of dominance as the most powerful weapon on the battlefield. In that regard, it does well, outfitting AC's with the largest armory ever in any AC game. However, it was also very detrimental to the player's ability to fight effectively, while allowing the AI to still use many bonuses from older games the player could not. One could argue that this allows the AI to challenge the player on even ground, while another could say that this was an unfair and "cheap" way of making the AI better.
Regardless, the Late Third Generation, despite many weaknesses on the player side of things, was easily the strongest Normal generation if one takes the AI's abilities as canon. In that regard, the Late Third Generation Armored Core was almost monstrously powerful, and several Late Third Generation Armored Cores might even be enough to give an early Fourth Generation Armored Core pause in battle. That said, the Late Third Generation does not appear in any further games after Last Raven, so this theory could not be put to the test.
The Fourth Generation - Armored Core 4 to Armored Core: For Answer Edit
Early Fourth Generation
Edit
Examples of Pre Fourth Armored Cores:
00-Aretha
,
002-B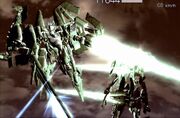 Preceding the the AC4 era Armored Core, these units are the first NEXT models in the AC4 Universe. They are the first units to contain the Kojima technology as well as other prototype designs, and also have the greatest variance in size; a first for an Armored Core series, these NEXTs are non-customizable and have a fixed set of parts and weapons. Despite being an older generation, these units are easily just as powerful, if not more so than mid Fourth Generation units; it is only in the latter half of the AC4 universe that the Fourth Generation NEXTs begin surpassing them. Due to their unstable and dangerous nature, this line of Armored Cores is discontinued soon after their creation. These machines would later be configured in Armored Core: For Answer to be entirely autonomous.
Mid-Fourth Generation - Armored Core 4Edit
Examples of Mid Fourth Generation Armored Cores: Supplice, Null, White Glint, Barbaroi 
By the time of Armored Core 4, there are two distinct classes of Armored Cores: Normals and NEXTs. The Fourth Generation of Armored Cores, called NEXTs, are the next step in Armored Core technology and represent experimentation into new territory. The Fourth Generation NEXT provided the following changes:
Allegorical Manipulation System- A highly advanced and sophisticated piloting system developed by Professor Jarnefeld and Aspina, it gives Lynx's a very high degree of control over their NEXT. A special psychic trait is necessary for it to be used. The exact nature of the AMS is not understood, but the descriptions given by various characters throughout the game seem to suggest that it involves an actual mental link to the vehicle, rather than simply physically piloting the AC. The truth remains unclear as no NEXT's cockpit is ever shown to the player. A possible reason is that the pilot's brain is also linked to the NEXT's optical sensors, which would eliminate the need for a traditional cockpit altogether. 
Kojima Generators - Presumably the new energy source for NEXTs, as opposed to whatever powers the standard Normal, Kojima Generators use Kojima Particles, a highly radioactive and possibly artificial substance, to generate large amounts of energy. It is not known whether they do this through nuclear reaction or some other form of energy generation.
Primal Armor (PA) - Particle shielding achieved by "molding" Kojima particles into an orb-shape. This would suggest that Kojima particles are related in some manner to plasma, as plasma can be "molded" in a similar manner with magnetic fields. In any case, Primal Armor serves effectively as a second layer of defense for a NEXT. Without it, they are much weaker defensively and are easily destroyed.
Shoulder Weapons- The Fourth Generation name for Extension weaponry, this now includes PA molders (which increases PA integrity and strength) and flares (which distract missiles), among other new additions.
Multiple Boosters - A huge leap in terms of mobility, NEXTs had many booster units all over the unit in order to not only help execute Quickboost's in multiple directions, but also to move with greater precision. Previous Armored Cores only had a pair of main boosters located on the back of the core unit and one on each leg for limited turning ability. This addition gives the NEXT superior maneuverability and control in both ground and aerial combat.
The Fourth Generation NEXT greatly out-performs every other generation of Armored Core thanks to the addition of AMS and Kojima generators, which amazingly increases the ACs' Energy Output; another key advantage was the removal of the red-zone of the generator; rather than shutting down entirely in the face of an energy shortage, a NEXT will simply momentarily cease energy-related functions in order to rapidly regain its energy stores, before moving on as if nothing had changed.
One notable change is that Armored Core parts are not individual but built from sets. For example the AALIYAH model of NEXT is built from parts based solely on AALIYAH based parts. A variant model, the ALICIA is named after its legs but is otherwise the same AALIYAH. Other NEXT designs are named differently from the "stock" based on a difference in arms. Most NEXT pilots use a NEXT based on a specific part set but with customized AC weapons.
Also notable is the lack of a radiator system, clearing up more space to be used for weapons or heavier gear. Relatedly, NEXTs of the Fourth Generation seem to be able to carry a great deal more than previous "Normals," and are significantly larger.
Finally, the left arm weapon has been made completely interchangeable with the right. There is no difference between weapons in either arm, although both arms have weapons bought in their own categories still. Both weapons also have their own targeting, and the latency period between trigger-pull and actual firing has been removed for left-arm weapons.
Normals
- A term used to refer to older generations of Armored Cores, but also includes models that do not use Kojima Particles. Conceived by the companies, they saw heavy use along with NEXTS during the
National Dismantlement War
. They are mass production units designed for large scale combat. While still more effective than conventional units, a Normal is typically completely outclassed by NEXTs. Despite this fact, they are still a mainstay of many of most companies forces, as NEXTs are presumably significantly more expensive and much more difficult to mass produce.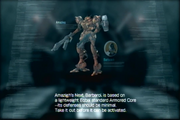 NEXTs
- A term for what is considered to be the most advanced form of
Armored Cores
. Based on
Normal
technology, the NEXT's separate classification revolves around the use of
Kojima
technology and
Aspina
's
AMS
piloting system to make the already dangerous Armored Cores much more deadly on the battlefield. The NEXT represents the current high-point of Armored Core design, when compared to all other forms of the vehicle. NEXTs are repeatedly shown to be able to wipe out entire armies of lesser Normals and MTs, and only the most advanced Normals (such as BFF's "Silent Avalanche" sniper squadrons) are shown to be able to compete with them. NEXTs also have the widest range of customization of the AC generations, but are also notably more expensive. They are often the deciding factor in battles, and almost always the key to victory for the winning corporation in any major engagement.
Armored Core: For Answer (Late Fourth Generation)
Edit
Examples of Late Fourth Generation NEXTs: White Glint, Stasis, Reiterpallasch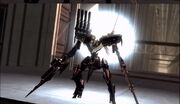 Encompassing all NEXTs built the decade after the Lynx War, Late Fourth Generation models are considered to be the apex in the NEXT evolution. The ability to Quickboost has been increased several fold with greater efficiency in terms of KP drain, energy output, and and overall mobility. The Late Fourth Generation also noted the transition from a ground based unit with limited flight time to a more efficient unit with potentially limitless aerial capabilities; whereas in previous generations, an AC would lose considerable speed when airborne, a NEXT actually gained from it to a large degree. This gave NEXTs not only the advantage of an extra dimension of movement, but also greater overall flexibility and survival rates as it was far better suited to changing combat situations than Normal Armored Cores, which were limited to basic boosting and were essentially stuck to the ground. Weaponry has also advanced in terms of sheer quantity as well as firepower the refinement of Kojima weapons technology. Simply put, NEXT technology has been refined to the point of perfection, allowing these mechanized one man armies to take on enormous odds (Arms Forts and even armies) and still come out on top.

The Late Fourth Generation NEXTs brought forth the following changes:
Assault Armor - This innovation added a new offensive edge to the NEXT. Certain Over Boosters were equipped with the ability to unleash all of the AC's Kojima energy at once in a large blast that deals massive damage to anything and everything around the NEXT. The power of the blast depended on the Over Booster, but even the weaker Assault Armor generators could severely damage an enemy NEXT. The main downside of this attack is that by releasing all of a NEXT's Kojima energy, it leaves them without their Primal Armor for a short period of time, leaving that NEXT extremely vulnerable to heavy arms fire.
Weaknesses
Edit
Despite the new capabilities of the Fourth Generation Armored Core, in some instances NEXTs lacked features of older models. The first and foremost was the lack of a core mounted Anti-Missile System. In older generations, most Cores usually had a built in laser-like interception system which was capable of destroying missiles that came into range; this function had no cost and did not take any energy. This feature is entirely absent in NEXTs, which may be considered a minor design flaw. However, taking into account a NEXT's superior agility, shoulder-mounted flares and Primal Armor, core-mounted anti-missile systems were essentially supplanted in terms of function.
Another key shortfall is shown in A Dark Night's March, in which it is shown that NEXTs also lack night vision capability, which is extremely odd, considering that most other units such as MTs, Normals, and even tanks had this piece of equipment, meaning that without support, a NEXT is essentially useless at night and much less effective during adverse weather conditions.
Another problem with NEXTs lies in their Primal Armor. When their Primal Armor is active, a NEXT is nearly indestructible, but once its Primal Armor is gone, it will take a lot of damage from even small arms fire. Because of this, NEXTs need to rely on their superior mobility in order to avoid taking hits that would drain a lot of their Primal Armor, and must also be careful when using Assault Armor.
Aside from the lack of night vision, most of the older features missing from the NEXT were so because of obsolescence, rather than design flaw. The lack of anti-missile systems were made up for primarily with Primal Armor and superior mobility, and in no way puts a NEXT at a disadvantage against any previous generation.
Fifth Generation - Armored Core V -Armored Core: Verdict DayEdit
Examples of Fifth Generation Armored Cores: Hanged Man, Vengeance, R.I.P.3/M
Whereas each succeeding generation of Armored Cores was a significant improvement over the next (with the exception of the Late Third), the Fifth Generation can be better described as one part refinement, one part advancement, and one part regression in terms of their overall capabilities.
Fifth Generation Armored Cores are now less than half the height of the previous generation and are designed to preform well in urban combat situations. Also, unlike in previous generations, the Fifth Generation Armored Cores generally work in groups of 2-5 and place emphasis on squad based tactics. It is also known that Fifth Generation units lack a radar, requiring them to either rely on an Operator or a built in Scan Mode to increase their situational awareness. 
The small size of the 5th Generation ACs allows them to quickly travel through alleys and other tight spaces. This enables them to surprise their enemies, because it is easier for 5th Generation ACs to sneak around on an urban battlefield. Their small size also means that they can better use buildings as cover in order to protect themselves from projectiles.
Scan Mode allows the Armored Core to spot targets through adverse weather conditions, scan enemies for weaknesses, and recover energy at an accelerated rate. When used in tandem with recon units or an Operator, this function also allows the AC to spot targets through walls. The main problem with Scan Mode is that it renders the ACs weapons unusable, leaving it almost defenseless.
Fifth Generation A
rmored Cores have also returned to their ground-based combat roots and have limited aerial capabilities. Whereas previous AC generations could fly higher and longer as long as they had energy, Fifth Generation ACs can only stay aloft for short periods of time. Unlike previous generations, however, ground boosting and "floating" takes no energy whatsoever, thus the pilot could use whatever options they have to quickly escape a situation they feel heavily threatened by without wasting energy needed for other uses, like in a grounded four-AC ambush. This meant that AC's of this generation had much higher mobility options than previous generations that used such a design philosophy, such as the Second Generation of Armored Cores. They are only beaten out by
NEXTs
, that have much higher mobility options, overall.
Fifth Generation ACs have a variety of different boost methods:
Hi-Boost - which is a very quick burst acceleration which replaces the Quick Boost of the Fourth Generation but is slower to reuse.
Glide Boost - which is similar to the Overboost of previous generations. Unlike Overboost, a Glide boost can be performed in any direction as opposed to the Overboost's forward only limitation, and can only be activated on the ground.
Boost Charge - In essence a melee attack reinforced with boosters (a kick or a full unit tackle).
Boost Drive - the ability to jump off building to gain more height or suddenly change directions.
Compared to the previous generation, the booster system has been simplified and consolidated
in a single booster part. The multiple booster arrangement is now composed of simple booster nozzles on the front of the core in addition to their traditional back placement. This heightened mobility options for AC's of this generation to such a degree that they can be seen as miniature NEXTs, with only the high energy costs from the above options holding a pilot back from more radical movement options.
Weapons have been drastically overhauled; all weapons are now hand carried weapons, including the traditional "Back Weapons" which required an AC to enter a stationary crouched position before firing. "Back Weapons" have now been converted to Cannon type weapons, and require an AC to enter a stationary "ready" position before firing (similar to the old crouch for using the traditional back weapons). With precision-type cannons, the AC must manually aim at its target. Tank legged ACs can use these weapons without entering the "ready" position, making them an ideal choice when considering the use of cannons.
All Weapons come in three damage type categories: KE, CE, and TE (Kinetic, Chemical, and Thermal). Bullet based projectiles deal KE damage, Chemical/Explosive type projectiles deal CE damage, and energy weapons deal TE damage.
The way weapons work is also very different. Many energy weapons no longer require energy to fire, allowing them to work much more effectively in combat. Machine Guns have been merged with Gatling Guns and Energy Machine guns have been replaced by Pulse Machine Guns. Due to the changes in the HUD, targeting is easier without a lock on due to the existence of crosshairs. Laser Swords also take on a more sword-like appearance, although their use remains the same. Laser Rifles are now able to act as both rifles and sniper rifles by either immediately firing or by charging its projectile, although charging the rifle slowly drains energy. New weapons include Physical Blades, H.E.A.T Pile drivers, etc. In Verdict day, hand held weapon now come in tweaked option where the performance can be tweaked up for various need. Tweaking option come in 3 fields: Stopping power, accuracy, and firing rate with 3 tweaking level for each and maximum 3 tweaking for each weapon unit. Tweaking option comes only once when the weapon is being purchased and gave the possibility of acquiring the same type of weapon in the same side of hand.
The concept of the Hanger has also be dramatically improved. In previous generations, it was necessary to purge weapons to use the hangars. This is no longer the case, nor needed with the Fifth Generation unit as they attach to the shoulders via a carousel like mechanism. These hangers also allow pilots to store rifles and Gatling gun on them, rather than being limited to smaller weapons. Rockets and Missiles are relegated to built-in shoulder units and can be equipped in single or dual mounts, but two separate shoulder weapons cannot be equipped at the same time. The only weapons that require to be purged before using the hangars are cannon type weapons.
A key feature of this generation is their use of "Ultimate Weapons," extremely powerful but difficult to use weapons capable of destroying at least one ordinary target in a single strike. These take the place of the traditional Back Unit and are extremely heavy. They prevent the use of Hangar parts however.
Armor for Fifth-Generation ACs comes in three damage resistance categories: KE, CE, and TE. This allows Pilots to tailor their AC to become extremely resistant to certain kinds of weapons. Generally, lighter ACs will have a high KE defense, while heavier and less maneuverable ACs can be specialized for two kinds of defense types. When facing a Fifth-Generation AC, it is strongly recommended to scan them in order to determine which weapons to use against them.
Weapon Arms also make a return for this generation. Like past generations, Weapon Arms do not offer a lot of armor or AP, but they make up for these drawbacks through their destructive power. All 5th generation weapon arms pack cannon type weaponry, and allow any AC to use them without entering the "ready" position. This means that Weapon Arms remove the mobility penalty of traditionally carrying such weapons on lighter ACs. These Weapon Arms also allow ACs to equip regular weapons on top of the ones present within the weapon arms, making these the most versatile Weapon Arms in any AC generation. Weapon arms can also allow storage for hand held cannons when the pilot starts using the Weapon Arms, rather than forcing the pilot to purge these weapons before switching, making them ideal choices for Tanks.
Weaknesses
Edit
One of the important weaknesses of this Armored Core generation is their lack of a radar. Its replacement, Scan Mode, does not allow an AC to fire its weapon and locate enemies at the same time; ACs can still utilize boosters while in Scan Mode, and their Boost Charge attack. Scan Mode is enhanced by the use of Recon Units, which can be used to find hidden enemies. Formerly weak cannon fodder such as tanks are a slightly greater threat to 5th Generation ACs when they are in Scan Mode, but an AC's mobility can prevent it from taking serious damage.
A serious drawback is the lack of back mounted weapons. Known as a staple of Armored Cores and as a source of hard-hitting fire power, the elimination of these weapons considerably reduces the Fifth Generation's offensive capabilities. Cannons are now mounted directly on the arm and operate as they do in previous games without Human Plus. This makes them much more situational. Cannons must also be purged in order for an AC to switch to a weapon that is being stored on their hanger, further reducing their utility. As a result of these draw backs, 5th Generation ACs work best in pairs or in groups, with each covering the others' weaknesses.
Fifth-generation ACs lack hover-legs as an option, which further cements their lack of mobility when compared to previous generations (They are slightly less mobile than 3rd Generation ACs).
Despite their weaknesses, a team of well built 5th gen ACs can handle a fight against N-WGIX or even an Arms Fort if the pilots are skilled enough.
First Generation Armored Cores had their laser blades stored inside arms similar to Nine-Ball Seraph. Whether or not this has any significance or simply was a technical limitation at the time is unknown.
The first AC in existence was the Cored MT, a heavily modified and customizable Muscle Tracer.
ACs from AC2 through Last Raven (Gen 2 and 3 / the PS2 generation) stand roughly 30 - 40 feet (9 - 12 meters) tall.

Based on height and scale (1/72) of official models kits, in which bipedal ACs stand approx. 6" (or 152 mm) tall.
It is uncertain if Gen 1 ACs from the Subterranean Era were of this height, given that there are no known model kits of ACs from that era. One can hypothesize they would be of similar height, since Gen 1 and 2 exist within the same timeline.

ACs from AC4 and For Answer (Gen 4) stand roughly 40 - 45 feet (12 - 14 meters) tall.

Based on height and scale (1/72) of official model kits, in which bipedal ACs stand roughly between 6.5 and 7.5" (or 165 and 190 mm) tall.

ACs from AC5 and Verdict Day (Gen 5) are considered the smallest of all ACs throughout all the generations; estimated in around 18-25 feet (5.5-7.5 meters) tall.
Ad blocker interference detected!
Wikia is a free-to-use site that makes money from advertising. We have a modified experience for viewers using ad blockers

Wikia is not accessible if you've made further modifications. Remove the custom ad blocker rule(s) and the page will load as expected.