Agraya
General information
Gender
Female
Classification
Raven
Affiliation and military information
Affiliation
Crest Industries
Rank
Unranked
Craft
AC Red Star
Real world information
Appearances
Armored Core: Nexus
Encountered
Stop Crest Invasion Force
Agraya is a Raven that appears in Armored Core: Nexus.
Information
Edit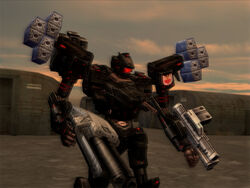 Agraya is an unregistered Crest-exclusive pilot and an enigmatic character. Although no data on her is available as she is not registered with the Ark, her combat record makes her one of Crests best. She works directly under the command of #1 Genobee. Her devotion to him can be seen in her similarly colored AC as well as her regretful apology when she is defeated. She is lured into a trap by the Raven and is killed in the ensuing battle.
AC Red Star
Edit
A lightweight AC with the same color scheme as Dual-Face, Red Star is more focused on speed and close range combat.
Red Star is equipped with a shotgun and grenade launcher as her main weapons, but she will switch to her chain-gun and triple missiles depending on the player's range. Close range combat is to be avoided as that is the foundation her AC was designed upon. It is suggested that your AC have plentiful ammunition for not only the mission objective but also to take on Red Star afterwards.
Like Genobee's Dual-Face, Agraya's AC is also overweight the second time you face her.
If you fail in the mission in which you are supposed to kill her, it will be noted that she survives the "assassination attempt." However, she is never mentioned again.
Ad blocker interference detected!
Wikia is a free-to-use site that makes money from advertising. We have a modified experience for viewers using ad blockers

Wikia is not accessible if you've made further modifications. Remove the custom ad blocker rule(s) and the page will load as expected.